POACHED EGGS IN TOMATO SAUCE WITH CHICKPEAS AND FETA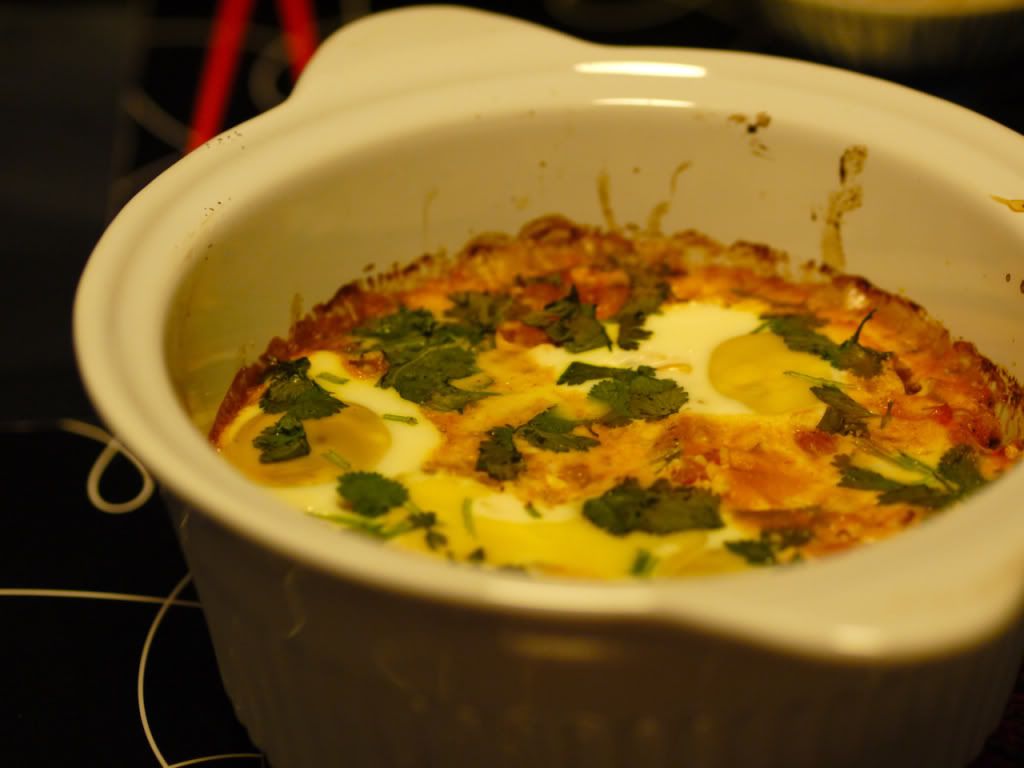 Ingredients:
1/4 cup olive oil
1 medium onion, chopped
4 Cloves of garlic, chopped
2 jalapenos, seeded and chopped (we didn't add, optional)
1 15oz can chickpeas drained (optional, a better alternative would be frozen peas)
1 tsp paprika
1 tsp ground cumin
3 large tomatoes, crushed with juice
1/2 cup feta cheese
3 large eggs (can add more)
1 tbsp chopped cilantro
1 tbsp chopped parsley warm pita bread
Directions:
1) Preheat oven to 425F, Heat oil in a large stoveproof skillet over medium high heat. Add onion, garlic and jalapenos. Cook and stir occasionally, until onions are soft (around 8 minutes). Add chickpeas, paprika and cumin. Cook for another 2 minutes.
2) Add crushed tomatos and juice.
3) Bring to boil, reduce heat to medium low and simmer. Stir occasionally until mixture thickens for around 15 min)
4) Season to taste with salt and pepper
5) Sprinkle feta over sauce 6) Crack eggs one at a time and place over sauce, spacing evenly apart 7) Transfer skillet to oven and bake until whites are just set but yolks are still runny, 5-8 minutes. Garnish with cilantro 8) Serve with pita
*Recipe from The Bon Appétit Test Kitchen*
my sister and i made this the other day, i actually found this recipe when i was flipping through some magazines after working out. as u can see in the pictures we over cooked ours, but it still tasted great! we adjusted the recipe to our taste
- wl